Bucky the Beaverbot was a superheavyweight robot that fought in the final two seasons of BattleBots. It was a four-wheel drive robot armed with a spiked wedge and a rear spinning disc. Unfortunately, it never made it past the preliminary bouts and thus never fought on television.
Robot History
Season 4.0
Bucky the Beaverbot was first scheduled to fight White Rabbit, but White Rabbit was unable to get running, so the team forfeited (White Rabbit did not officially compete and get accepted).
Therefore, Bucky the Beaverbot got a bye and advanced to the second preliminary round, where it faced The Locksmith. The fight had to be postponed twice (by the Locksmith team), before it officially happened. When it did, Bucky the Beaverbot fearlessly rammed into its spinning opponent, and The Locksmith stopped moving. Bucky the Beaverbot turned around and ground up The Locksmith with its disc as it was counted out.
This advanced Bucky the Beaverbot through to the first taped and final preliminary round against IceBerg. For this fight, the team removed the front spikes in order to have a lower ground clearance and get underneath IceBerg. this strategy worked at first, as IceBerg was having trouble moving and so Bucky the Beaverbot was able to get around it and push it around. After about a minute of this, IceBerg gained control of the fight and was able to maneuver Bucky the Beaverbot into the pulverizer until it had to let go, and then repeat the cycle. This dominance meant Bucky the Beaverbot lost the judge's decision, 27-18.
Season 5.0
Bucky the Beaverbot returned largely unchanged, and was scheduled first to battle the new Odin II. In the battle, Bucky the Beaverbot was damaged heavily by Odin II's spinning blade, and it was knocked out.
Wins/Losses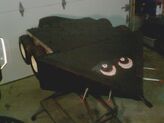 Community content is available under
CC-BY-SA
unless otherwise noted.