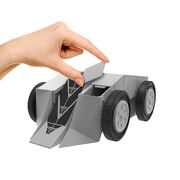 Bronco was one of four BattleBots competitors chosen for the construction toys produced by Tech4Kids. It was released individually as well as with Tombstone in a two-pack in 2017.
The toy strongly resembles the Inertia Labs team's 250lb robot, sporting a long wheelbase, front and rear wedges as well as its iconic flipping arm. Like other toys in the line, it needs to be constructed and includes instructions to do just that. Many of the parts either clip or press together, with each part made from slightly flexible plastic. These can come off during play to represent damage, and a "kill switch" is hidden behind a removable wedge at the rear of the toy. When hit, this not only stops the robot from being able to move, but also causes its top panels to fly off and a red light signals that Bronco has been knocked out.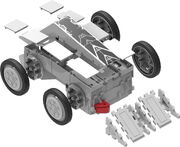 Bronco is powered via remote control using the four main buttons on the front for driving and steering, and buttons on the top to power the flipping arm. Only Bronco's rear wheels are actually powered by two small motors inside, and the front two are not even flush to the floor. The toy features 20 pieces altogether and unlike Tombstone, does not feature any alternative armor pieces.
The flipper is noticeably weak when compared to the remote control toy released later by HEXBUG, though both are relatively underpowered. Its range of motion is very limited and it quickly retracts back to its starting position. This means the toy is unable to right itself, or even flip other toys in the range. Although it is based on the 2015 season design of Bronco, the toy does not feature wheel protection seen on the actual robot.
Compared to its initial prototype, the design for the wheels, kill switch and removable panels is different than on the finished and released toy. The chassis appears slightly longer and the "Bronco" lettering is also present on the final release.
An earlier model of Bronco advertized in the New York Toy Fair book for 2017 shows Bronco with six wheels rather than four.[1]
Trivia
[
]
Although Bronco's remote control features two top-mounted buttons, both power the flipper in the same way.
References
[
]