Bronco was one of four BattleBots competitors to be chosen by HEXBUG for the first and only wave of their Push Strike line of toys, released in 2016.
Like the Clutch and Clash toy, it is based on the ABC Season 1 version of the Inertia Labs bot, evidenced by its four wheels instead of six, and the bodywork protecting them on each side. Like its real-life counterpart, the primary weapon on this toy of Bronco is its powerful flipper, which can be activated by pressing down at the back of the flipping arm.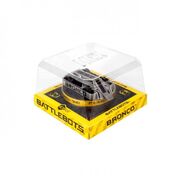 While largely accurate to the real-life Bronco from the 2015 BattleBots season, this toy is not without errors. Bronco's name decals on either side of the bot are considerably larger than they were on the actual bot. Possibly due to the toy's size, the flipping arm does not replicate any of the pneumatics used to power it.