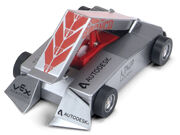 "Try to withstand the wildest of the west! Face the untamed fury of Bronco! With its barbaric bucking action, this robot leaves the competition in shambles.
CONSIDER THE ENEMY BRANDED!"
— Bronco's official description.
Bronco was one of the BattleBots competitors released as part of HEXBUG's Rivals line of remote control toys. It was released in 2018 alongside the second version of Witch Doctor in two-pack, individually and as part of an Arena set.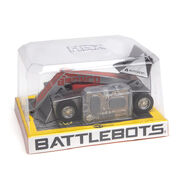 The toy is representative of Bronco's 2018 season design, made clear by its long wheelbase, four-wheel drive and red decals across its iconic flipping arm. It is fairly accurate to its real-life counterpart, though noticeably lacks the armor protecting its rear wheels. The weapon itself uses a very similar flipping mechanism to that used on HEXBUG's only replica Robot Wars release, Matilda.
Bronco was originally planned to be released alongside HyperShock, both of which in their ABC Season 1 appearances.[1] However, Bronco's release was postponed due to HyperShock's radical redesign between the 2016 and 2018 competitions, and the latter would not receive a released toy until 2022. Bronco's own toy was relatively underpowered too, with its flipping mechanism reworked in the meantime to fire with more power and retract faster. Bronco was redesigned to match its Discovery Season 3 look and an updated Witch Doctor was designed to accompany it.
Like every other HEXBUG remote control BattleBots release to date, Bronco also features removable parts which can come off during play to represent damage. Bronco's wedges either side of the flipping arm as well as its rear plow are removable.
In May 2022, the Bronco vs. Witch Doctor Rivals pack was released in the United Kingdom for the first time, as well as Bite Force vs. Blacksmith and the Arena MAX set.
Trivia
[
]
Bronco and Witch Doctor were the first HEXBUG releases not to feature pieces held in place by magnets.
Bronco underwent two prototypes in its 2015 season appearance before its final toy was released.
References
[
]