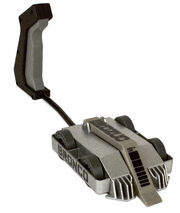 Bronco was one of just two BattleBots competitors to be chosen by HEXBUG for the first and only wave of their Clutch and Clash line of toys, released in 2016 alongside Bite Force.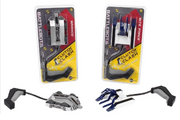 Much like the Grip 'N Grapplers line released by Road Champs in 2001, these toys had moving weapons which could be activated with the handle coming out of the back of the robot. The black handles had grey triggers which when squeezed, in the case of Bronco, would pull a string through the black tube and tug a plastic lever that forced the flipping arm to rise. Though this handle could make it award to play with the Clutch and Clash toys, they could be removed if desired.
The toy is easily identifiable as the ABC Season 1 build of Bronco, and largely shares the same decals of its smaller Push Strike release, but more detail in the front pieces either side of the primary weapon. The toy lacks more intricate detailing such as the real bot's bolts around each panel, though is mostly accurate outside of this.