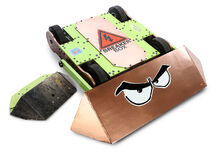 Breaker Box was a heavyweight robot built by Team Nightmare which fought in the 2009 BattleBots Professional Championship. It was a box-shaped robot armed with a titanium lifting scoop on a 360-degree axle so it could function while being invertible. It didn't do well in competition, winning one battle, but losing 2. Breaker Box still fights today at RoboGames with progressively better results.
Breaker Box was originally a middleweight built in three weeks for a competition in 2006 and was a essentially an up scaled version of Team Nightmare's antweight, Shazbot. On Facebook, Jim Smentowski confirmed that Breaker Box would return in place of Nightmare with a new look and weapons for Season 4.
For its Season 4 look, Breaker Box gained a neon yellow and copper color scheme, as well as an electrical warning sign on the top plate. For its weapons, Breaker Box could either use a new lifting wedge plow or a hammer, both of which could rotate 360 degrees. Breaker Box also brought it a little wedged minibot with a flamethrower inside, that would shot up at a 45 degree angle, as opposed to other which would either shot them straight forward or down.
Robot History
2009 Pro Championships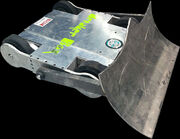 In Breaker Box's fight against Brutality, Breaker Box got the first attack in before Brutality could spin its blade up to speed, pushing Brutality with the scoop. Brutality escaped and retaliated, causing sparks with the impact of its blade on Breaker Box's scoop. The impact was so great that Breaker Box became immobilized, eliminating Breaker Box.
Discovery Season 4
Breaker Box made its return to robotic combat with a match against the new Falcon. In response, Breaker Box stuck with its trademark lifting plow to hopefully absorb hits from its opponent and/or thrown them around the arena. Since it was also slightly underweight, Breaker Box was accompanied by a minibot named Hacker that was equipped with a titanium wedge and a flamethrower. As the match got underway, that's pretty much what they were able to do as Falcon was having drive issues. This allowed Breaker Box to shove them all around the arena. Falcon managed to get some mobility back but Breaker Box flipped them over and maintained their advantage over them. However, the fight took a surprising turn as Breaker Box soon had troubles of its own, firing its weapon when Falcon was out of reach and not driving all that well, even having no life in the last stages of the fight. Regardless, both robots made it to the end of the fight. The judges awarded a split 2-1 decision to Breaker Box.
Wins/Losses
| Competition | Wins | Losses |
| --- | --- | --- |
| 2009 Pro Championships | Suspect Device | |
| Discovery Season 4 | Falcon (Undercard Match) | TBA |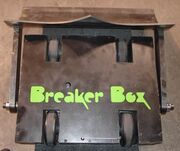 Community content is available under
CC-BY-SA
unless otherwise noted.