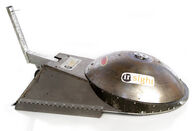 Botulism was a middleweight robot which competed in Seasons 3.0 and 4.0 of BattleBots. It was a wedge-shaped robot armed with an angled toothed spinning dome and a modular rear pneumatic weapon.
Due to an overly ambitious weapons & control scheme, Botulism forfeited its first match in its debut season due to a malfunction that made the robot drive around the arena on its own.
It won its 1st match in Season 4.0 using its (new) spinning front flail weapon as well as its modular claw attachment, but was defeated by Captain Insane-O. 
Botulism in Season 3.0 had a spinning dome with rigid steel blades attached. The titanium alloy armor was hinged to create a 3 way wedge profile. The drive train was a chain driven 4 wheel drive skid steer, and the spin weapon motor was a modified electric trolling motor. The rear contained a modular pneumatic weapon with a variety of possible configurations. 
Season 4.0 revisions included a reduced dome profile with clear polycarbonate cover, an industrial machine bearing support, and tethered flail weapon.
Modular pneumatic attachments ready for season 4 included:
An overhead hammer/spike weapon
A sensor (or selectably manual) activated tail lifter
A "claw" feature used to lift opponents completely off the ground (similarly to Derek Young's Complete Control), this configuration was used successfully in the battle with Son of Bob.
Robot Specifications
Bot Detail
Specification
Drivetrain
8 wheel drive with modified drill motors and custom machined parts. Chain drive consisting of 8 tooth sprockets, #25 chain, and 19 tooth heavy duty bicycle chains on aluminum hubs designed so that the bot would still drive normally should one drive chain fail.
Wheels
Fiberglass reinforced nylon wheels with thick rubber wheels. Durable and easy to replace should they be damaged in battle.
Power Source
12v Nicad pack with Sanyo high current D size batteries. Designed so that it would cut power should the batteries rise in temperature.
Armor
1/8" thick titanium armor (60% titanium, 40% vanadium alloy titanium) shock mounted with a 1/4" rubber buffer zone to the aluminum subframe. 1/4" thick 6061 Aluminum stock for the baseplate. Stainless steel hinge stocks bolted to the baseplate to form anti-wedge skirts. Front cowling made up of welded steel and thermal formed lexan.
Speed Controller
Twin IFI speed controls used to control each side in a skid-steer fashion. Capable of outputting over 80amps at 24vdc each. Channel mixing at the transmitter means that they can be controlled with just one joystick.
Flipper/Lifter weapon
1/2" aluminum arm with 45 degree edges to slide under opponents. Switches between "flip mode" and "lift mode". In flip mode, a reflective IR emitter/detector is designed to trigger the pneumatics and activate the flipping arm. In lift mode, the CO2 is diverted through a different valve which allows for slow and controlled movement.
Crabclaw weapon
Operated with a steel gear and can be used either independently or with a "finger" attachment operated with a heavy spring attached to a smaller steel gear. The finger quickly lowers as the claw raises, and upon contact with an object, the finger would continue to press down on it as the spring winds back. Two wheelie bars extend backwards to maintain balance by shifting the pivot point as far as possible.
Lateral Spear weapon
The lightest of all of the weapons, which consisted of a spear screwed onto the pneumatic piston rods and secured by an aluminum guide mounted onto the frame. Would be used particularly against bots whose sides are perpendicular to the ground and can be effectively punctured or shoved.
Overhead axe weapon
"The spike weapon is used by switching the high-flow valve port to the retract end of the cylinder and running the valves independently of each other. Thus, the fast action is used to fire the spike downward and the slower valve is used to retract the spike to the armed position." 

This configuration would be used if the opponent has weak top armor.

Pneumatic Trailer weapon
3 pneumatic bladders would be filled to lift the opponent off the ground in a safe distance, and a very low profile 1/2" platform would be used to transport the robot into a hazard. This configuration would be used primarily against any robot with a spinning weapon.
Spinning flail weapon
Powered by a modified trolling motor, which utilizes a 4lb industrial ball bearing so that the heavy steel motor case would absorb the forces of the impact rather than the motor shaft. A CNC'ed aluminum enclosure with flails attached via steel aircraft cables is fitted to a 5/8" roller bearing. The flails were planned to later be made up of S7 tool steel.
Robot history
Season 3.0
Botulism was due to fight Machiavelli in its first battle but forfeited due to a malfunction that made the robot drive around the arena on its own.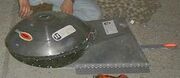 Season 4.0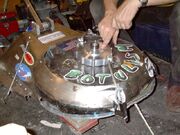 Botulism first went up against Son of Bob, using the claw configuration. The robots circled each other for position, Botulism unable to catch Son of Bob. It could not catch Son of Bob in its clamp. Son of Bob got a few good pushes and hits, but then Botulism finally managed to get Son of Bob on its clamp and lift it up. Its rear spinner weapon also got some hits and did cosmetic damage to Son of Bob. It got more and more lifts, driving Son of Bob's propeller style y-axis spinner into the ground once. Towards the end, it finally caught Son of Bob and clamped it. The judges then went to work, and gave most of the damage points to Son of Bob, and an equal number of the strategy points to Botulism. Aggression was split in favor of Botulism, who won the 23-22 decision.
Botulism then went up against Captain Insane-O. Botulism spun up its main weapon and clashed it a few times against Insane-O's drum. Soon there were dents in Botulism, and something had broken on Insane-O so that its drum started hitting the floor intermittently. The weapons continued to collide, and when Botulism saw that it wasn't doing any more damage, it brought its other weapon into play. It lifted up Insane-O in the clamp, but dropped it. As the match ended, Insane-O got one last good hit. The Captain won 28-17, and Botulism was out.
Wins/Losses
External Links
Community content is available under
CC-BY-SA
unless otherwise noted.