Boltergeist is a heavyweight robot which applied for Discovery Seasons 5, 6 and 7 of the BattleBots reboot.
CAD work of Boltergeist was first revealed in November 2019 having submitted their initial application two months prior, where it was shown to be predominantly black in color with gothic red eyes and bearing a large hammer. Its shape and primary weapon drew immediate comparisons between it and veteran competitor Beta.
Unlike Beta, however, Boltergeist features optional hinged forks at the front to slide underneath and hold an opponent in position before firing its primary weapon. According to the team, it was originally designed to look like a B-2 Spirit stealth bomber.[1] The pointed hammer head shown in its original CAD was unique in the fact that is was largely hollow, though the team also teased a double-edged axe in later designs. The axe head was shaped to resemble a bat, dubbed the "Bat-tle Axe".
Boltergeist's name likely derives from the 1982 thriller Poltergeist, becoming a portmanteau of it and bolt.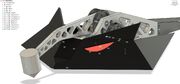 Team Boltergeist were a late addition to the 2020 season, invited only within a few weeks of the season's filming being postponed due to the COVID-19 pandemic, within the same period of time their team member Oscar "Dan" Humphreys sadly passed away. However, international travel restrictions and short timeframes prevented them from making the journey and they would ultimately not compete. Despite this personal setback, Team Boltergeist again applied with an updated design, but were not selected to compete in the 2021 season.[2]
The team have since stated their intention to apply for Discovery Season 7, which was confirmed by the network in 2021. They posted their submission in January 2022[3] and uploaded an application video in March 2022.[4] Aidan James confirmed the primary weapon to be powered by a large Etek motor.
Away from BattleBots, members of the team compete in UK live events with a vertical spinner called Spoopy as well as a beetleweight version of their heavyweight design.
Trivia
[
]
2021 season competitor Glitch was also designed to resemble a stealth bomber, though is predated by Boltergeist.
Boltergeist captain Aidan James and teammate Natasha Hrubovcak form part of a band called You The Living, referenced in their original team name "Team YTL".

As well as this, Boltergeist was originally going to be called "BOOm" according to a BattleBots application dated September 2019.[5]
References
[
]