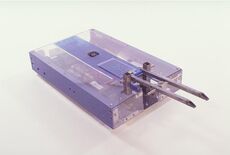 Blue Streak was a middleweight robot which competed in Season 2.0 of BattleBots. The robot was built by Jason Tajima, assisted by team members Nick Jose and Mike Tajima. It was a neon blue box-shaped robot, armed with a pair of actuated lifting spikes. It didn't perform well in competition, losing its first battle to Spaz. However, it made a television appearance in the middleweight royal rumble.
Robot History
Season 2.0
Spaz vs. Blue Streak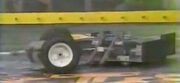 Blue Streaks first opponent in the battlebox was Mike Regan's thwackbot, Spaz. This match was unfortunately not aired on Comedy Central, but a small highlight was shown during the season 2.0 finale.
At the beginning of the match, Spaz landed a few blows on Blue Streak with its axe, and attempted to push it into the kill saws. Blue Streak managed to get away from Spaz, but accidentally drove itself over another set of kill saws, sending it flying towards the center of the area. Spaz continued to land blows on Blue Streak, who was caught in the killsaws several times throughout the fight.
Eventually, Blue Streak attempted to lift Spaz with its forks, but it became apparent that it was suffering drive problems. Additionally, towards the end of the match, Spaz lost one of its drive chains, severely limiting its mobility. Time eventually expired, and the judges ruled in favor of Spaz 33-12, meaning Blue Streak was eliminated from the tournament.
Judges Scorecard

| | Aggresion | Strategy | Damage | Total |
| --- | --- | --- | --- | --- |
| Spaz | 11 | 10 | 12 | 33 |
| Blue Streak | 4 | 5 | 3 | 12 |

Middleweight Royal Rumble
Due to its seeding in the tournament, Blue Streak was eligible to participate in the middleweight royal rumble at end of the tournament. In the beginning, Blue Streak was rammed by Blade Runner and started spinning around in circles. Blue Streak then got hit by by Deadblow and Instigator. Blue Streak was then pushed against the spike strip and it stayed there for the rest of the rumble.
Wins/Losses
| Competition | Wins | Losses |
| --- | --- | --- |
| Season 2.0 | Bye | Spaz |