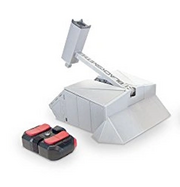 Blacksmith was one of four BattleBots competitors chosen for the construction toys produced by Tech4Kids. It was released individually as well as with Minotaur in a two-pack in 2017.
The toy is largely representative of the 2016 season build of Team Half Fast Astronaut's robot, which finished in the Top 32 in the main competition. It features Blacksmith's iconic hammer weapon, though for obvious safety reasons, its flame ability was not replicated in production. The large, front plow is also present on the toy. As with other toys in the line, it needs to be constructed and includes instructions in the box. Many of the 22 total parts either clip or press together, with each part made from slightly flexible plastic. These can come off during play to represent damage, and a "kill switch" is hidden behind a removable wedge at the rear of the toy. When hit, this not only stops the robot from being able to move, but also causes its top panels to fly off and a red light signals that Blacksmith has been knocked out.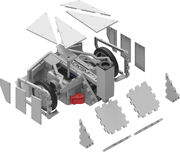 Blacksmith is powered via remote control using the four buttons on the front for driving and steering, as well as buttons on the top to swing and retract the hammer weapon. Although its hammer appears more powerful than the flipping weapon of Bronco, it is relatively underpowered when compared to the remote control Blacksmith toy later released by HEXBUG. However, it is still able to attack from overhead with the ability to knock off pieces of opponents.
For the finished Blacksmith toy, its hammer was redesigned to be one solid part rather than multiple pieces joined together. The shaft of the primary weapon also features Blacksmith's name, as was not present on the prototype. This is detachable to replicate the damage the real robot took in fights against fellow robots made into Tech4Kids toys, Bronco and Minotaur. It was even packaged with the latter in reference to this battle, which proved to be one of the most rewatched in BattleBots history on ABC's YouTube channel.[1]
Trivia
[
]
The Blacksmith Tech4Kids toy was the first BattleBots toy themed on a robot which had not achieved a semi-final or better finish since the 2001 MiniBots toy line.
References
[
]