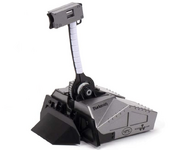 "Smash the competition to bits with Blacksmith's devastating hammer. Deflect attacks and lift enemies for crushing blows with the front wedge. Survive the strongest hits with your steel plated armor!
FORGE YOUR VICTORY!"
— Blacksmith's official description.
Blacksmith was one of the BattleBots competitors released as part of HEXBUG's Rivals line of remote control toys. It was released in 2018 alongside Bite Force in both a two-pack and individually.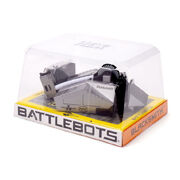 The toy is representative of Blacksmith's 2018 season design, evidenced by the large angular plow on the front of the toy, which is hinged much like its real-life counterpart.
Although much of its detail is present on the toy, there are some differences. For example, the Nuclear Blast and NPC Motors logos on the side are not colored as they were on the 2018 build of Blacksmith. As expected due to safety reasons, Blacksmith's iconic flamethrower incorporated into its hammer is not replicated within this toy.
As with other BattleBots toys in the range, Blacksmith has removable parts to simulate damage. In this instance, both halves of its top armor as well as its front plow can be taken off.
In May 2022, the Blacksmith vs. Bite Force Rivals pack was released in the United Kingdom for the first time, as well as Bronco vs. Witch Doctor and the Arena MAX set.