"Dive headfirst into the BattleBots experience and learn how to build the Season 3 champion: Bite Force. With over 500 easy snap-together pieces, you can get one step closer to becoming a BattleBots engineer!"
— Official description on the HEXBUG website.
Bite Force was one of five BattleBots competitors released as part of HEXBUG's VEX Robotics set of construction kits. It was released in August 2019. The kit requires six AA batteries and is slightly larger than End Game and Warhead, containing 500+ pieces according to the BattleBots store versus the 270 and 290+ pieces advertised with the smaller kits. Due to its more complex nature, Bite Force is the most expensive kit in the line, priced at $99.99.[1]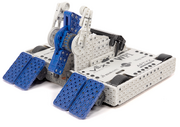 It is an accurate representation of Paul Ventimiglia's three-time Giant Nut winning bot, based on the reworked design which incorporated a vertical spinning disc and hinged wedgelets to replace its grappling weaponry, as well as wheels rather than treads. Each of the sponsor logos for Bite Force is replicated on the top panels of the kit, as well as several of the fasteners resemble the bolt patterns seen on the 250lb robot. The primary weapon is even chain-driven as on its real-life counterpart, albeit using a plastic chain compared to its actual metal chain.
However, whereas Bite Force is four-wheel drive on the show, this VEX Robotics kit only has two powered wheels, those being at the front. This means it is incapable of driving remotely upside-down, despite sporting the ears and small wheels above to help it run inverted. Bite Force is driven by a smartphone app which acts as the toy's remote control, called VEX Pilot.
References
[
]