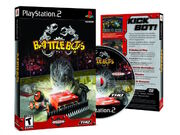 BattleBots was a video game planned to be released for the PlayStation 2 and GameCube, and was nearing completion. However, production was cancelled after BattleBots was discontinued on TV. Promo discs of the prototypes was sold on the BattleBots website for $150 but they sold out [1] Regardless, the BattleBots website now lists the game as sold out but with a price of $299.98 (this was actually an error on BattleBots' part as the game was never supposed to be listed)
According to the back of the game's box, it was going to have three modes of play:
Arcade Mode: Unique hazards and power-ups.
Multi-Player (up to 4 players at a time).
It was also highlighted to have different camera angles, more accurate damage representation and play-by-play commentary with 20 different Arenas of Destruction.
Robots in the Game
40 robots and some fantasy robots were to be included in the game. So far, these robots are known based on screenshots, videos and descriptions on the box. Contrary to the TV show, where robots fought in their own weight classes, the game allowed robots from different weight classes to fight each other.
Fictional Bots
The game also implemented several fictional robots into the game. From screenshots and videos, these robots were found.
References
Community content is available under
CC-BY-SA
unless otherwise noted.