BattleSaw was a robot from Twister Robotics which competed in Discovery Season 4 of the BattleBots reboot.
The robot was originally planned to enter ABC Season 2 of BattleBots with the Cox brothers picking up Jeremiah Loder for their team. However, they were not selected.[1] Though production allowed for Twister Robotics to appear as an alternative for Discovery Season 3, BattleSaw was unfinished by the time filming came around and had to withdraw.[2]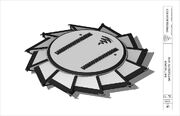 By the time BattleSaw was finished two seasons after its original application, the team had seen a shuffle in personnel with Jeremiah Loder not available, but Chris Humble, former RoboGames announcer and Robotica 2022 event organizer Mark Elam and Gamma 9's Curtis Nemeth present for filming.[3]
"It is with regret that we announce we will not be competing at Battlebots this season. We just ran out of time to get it finished. On the other hand, it will be finished. Just not in time for the show."
— Twister Robotics announce their withdrawal from Discovery Season 3 in April 2018.
The robot had two similar designs, both of which featured triangular spinning arms (twelve in the first version and eight in the second). The outer ring of interchangeable Tungsten teeth would spin with the intention to cause damage to opponents. Twister Robotics intended for BattleSaw to be four feet in diameter and 10" tall, though the dimensions of the final bot's design are unknown. BattleSaw operated on tracks, which was a rarity for modern BattleBots competitors, and these utilized Neodymium magnets of opposing polarities to give it extra traction and theoretically prevent BattleSaw from flying across the arena on impact with an opponent.[4] A similar design was also conceptualized for fellow ring spinner Bad Penny, which itself was unsuccessful in applying for ABC Season 2.
Twister Robotics reapplied for Discovery Season 4 with BattleSaw, armed with its eight-toothed spinning ring capable of reaching up to 140mph. They were again accepted, and this time were in a position to compete. However, BattleSaw's rookie season was awash with issues, as the ring spinner struggled to cause any noticeable damage throughout its fights and the bot itself proved unreliable in battle, losing all three battles by knockout. In addition to its poor performance, BattleSaw would suffer a nearly fatal incident when a safety switch was unexpectedly ejected from the robot, causing the bladed weaponry to spin up inches away from team member Adam Cox.[5]
The team announced did not return for Discovery Season 5, news the team announced ahead of filming. BattleSaw also did not return for Discovery Season 6 due to time constraints.
Outside of BattleBots, Twister Robotics displayed BattleSaw at Wichita Mini Maker Faire in July 2018, notably without its primary weapon or armor. According to Mark Elam, BattleSaw resides within the Cox machine shop. The team were initially invited to the 2022 Robotica event held by Elam, though uncertainty over the viability of spinners in the arena but they ultimately would not end up competing again.
Robot History
[
]
Discovery Season 4
[
]
BattleSaw vs. MadCatter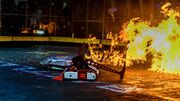 BattleSaw first fought MadCatter and was able to destroy its minibot's flamethrower in a ball of fire, and even took a panel off of MadCatter. BattleSaw took two hits from its opponent and started smoking around the fourth hit from the ring. With no movement left and the smoke rising, MadCatter slowly hit the top of BattleSaw for good measure and drove it to the screws as the referees counted the tracked robot out, handing MadCatter the win by KO.
BattleSaw vs. Extinguisher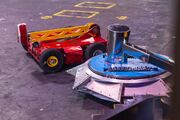 BattleSaw's next fight was against another newcomer in Extinguisher. It became apparent early on that Extinguisher was able to handle the shots from the ring spinner, which proved to be bad news for BattleSaw. Extinguisher then shoved it into a corner, able to bully BattleSaw due to its angular teeth and lack of pushing power. BattleSaw was able to get back up to speed again afterwards, but its primary weapon again failed to damage its opponent, and it eventually died. Without a primary weapon or much ability to win a pushing match, BattleSaw then found itself being shoved into screws, walls, and pulverizers. During this barrage of attacks, BattleSaw's mobility had been hampered as it was moving rather sluggishly, and beginning to smoke. One final slam into a corner near the blue square proved to be the final blow as BattleSaw stopped moving and was counted out.
BattleSaw vs. Petunia vs. Jasper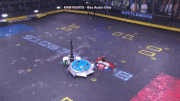 BattleSaw also took part in rumble against Dutch veteran Petunia, and British rookie Jasper. BattleSaw got up to speed and proceeded to move towards Jasper, but was not able to take advantage of its kinetic weaponry and and received two hammer blows from the British bot. This seemed to have immobilized BattleSaw as it could not move, and struggled to refire its weapon. With no drive or working weapon, BattleSaw had one one of its treads pinched by Petunia as smoke pore out of BattleSaw once again. After receiving more blows from the back of Jasper's hammer, BattleSaw was left by the screws for the rest of the match as the other two bots duked it out. The rumble went the distance, and Petunia took the unanimous 3-0 decision. This proved to be BattleSaw's final battle of the season, as it was not selected for the main tournament.
Results
[
]
BATTLESAW - RESULTS
Discovery Season 3
Fight Nights
0-2
Fight Night (Untelevised)
vs. MadCatter
Lost (KO)
Fight Night (Untelevised)
vs. Extinguisher
Lost (KO)
Exhibition Matches

Rumble (Untelevised)
vs. Jasper, Petunia
Lost (KO)
Wins/Losses
[
]
Competition
Wins
Losses
None

MadCatter (Untelevised Undercard Match)

Extinguisher (Untelevised Undercard Match)

Petunia (Untelevised Rumble)
Faruq Tauheed Introductions
[
]
"Faruq here, this bot will cut you down to size and make builders cry! It even makes Julienne fries, and that's not all! It comes with a handsome paring knife! It's BattleSaw!"
"This bot has got more metal than the Monsters of Rock. It shreds harder than Slash, and guarantees a Megadeth. And it's gonna bang your head until you get Tinnitus. Ugh, and that hurts too. From Wichita, please welcome BattleSaw!"
"Carry on my slayword son, you'll be in pieces when it's done. After you take it on the chin, all you are is dust in the wind. The pride of Kansas, BattleSaw!"
Gallery
[
]
Trivia
[
]
BattleSaw was also planned to be scaled down and built as a 30lb robot named MiniSaw, but the team never went through with this plan due to the loss of interest that resulted from Discovery Season 3's prolonged hiatus.
Much like Parallax from the 2018 season, both BattleSaw and Daisy Cutter never had a fully-televised fight air in Discovery Season 4.
References
[
]