Notice:
Please refrain from posting spoilers relating to the current season of BattleBots. Spoilers can come in the form of unconfirmed Fight Night, Tournament Bracket, Exhibition or BattleBots: Champions fights, as well as information or hyperanalysis. The YouTube Exclusive battles which become available to Facebook Supporters early should also remain untouched until uploaded on the official BattleBots YouTube channel for public viewing. If information has been confirmed by an official news source, purposely confirmed through a previous episode or through authorized leaks.
Additionally, please do not contribute rumors or speculation towards the upcoming season and present it as fact. BattleBots competitors, crew and audience members are under a strict non-disclosure agreement (NDA), and leaking spoilers ahead of official releases may put yourself or the Wiki at risk of legal action.
Thank you for your co-operation.
Welcome to the BattleBots Wiki
This is the encyclopedia about the
BattleBots
TV show and its competitors, presenters, battles and teams, covering the Comedy Central, ABC and Discovery eras of the show, and is always growing. It also contains information on pages deemed relevant in
terminology
and sport of robotic combat.
This wiki covers BattleBots, and despite frequently making reference to other competitions, does not provide detailed insight into other televised shows and live events. These competitions have their respective wikis, which are linked below:
Robotica Wiki • Robogames Wiki
Robot Wars Wiki • Techno Games Wiki
King of Bots Wiki (also covers This is Fighting Robots)
Use the navigation menu at the top to see popular pages, BattleBots champions, every single season and select merchandise from the show's Comedy Central, ABC and Discovery eras. Alternatively, use the search function to browse for any other page.
To see every new BattleBots competitor from the most recent season on Discovery, click here.
Contribute To This Wiki
To write a new article, click the Add New Page button in the top-right corner, and give it a title. Anybody can edit this Wiki and it is being updated on a daily basis. Alternatively, you can edit an existing page by clicking the Edit button, or Edit Source under the ellipses showing more options if you prefer to work with source code.
See the Community To-Do List for a list of pages that need to be created or revised within this wiki.
Please refer to the Wiki Rules when making edits to keep pages consistent and professional looking where possible.
Uploading images is an easy way to help us out, especially concerning competitor pages whose fights do not currently have images.
Featured Articles
BattleBots: Champions
"In the fight capital of the world, a new tournament kicks off for robotic combat's hottest trophy: The Golden Bolt. But first the robots must face the toughest battle ever seen in Vegas: the Sin City Slugfest"
— Discovery's official description for the spin-off series.
BattleBots: Champions, also known as BattleBots: Sin City Slugfest, is the name given to the sequel spin-off series to BattleBots: Bounty Hunters. It is due to premiere in August 2022 at 8pm ET on Discovery and discovery+.
The five Bounty winners from 2020 are due to return in an attempt to defend their crowns in a similar knockout format to Bounty Hunters - Gigabyte, Lock-Jaw, Rotator, Skorpios and Witch Doctor. These make up five of the six confirmed episodes, dubbed Sin City Slugfest. In the final episode, the five winners of their respective qualifier episodes will be joined by former Giant Nut winners Tantrum, End Game and Tombstone to form an eight robot tournament with the overall tournament winner taking home the Golden Bolt trophy. More...
re:MARS all:STARS BattleBots Challenge (2022)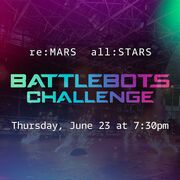 The 2022 re:MARS all:STARS BattleBots Challenge was a tournament held in Las Vegas, Nevada as a collaboration between Amazon and the Discovery network.
It took place on June 23, 2022 at 7:30pm PST, held between eight marquee BattleBots competitors. Presenter Chris Rose was at the event as well as ring announcer Faruq Tauheed and Bot Whisperer Pete Abrahamson. Although Kenny Florian was absent due to a conflicting schedule, Will Bales featured as a guest commentator. There were no judges at the event, with matches going the distance decided by audience participation. More...
Did You Know?
... that at its tallest, Mammoth measured 6'3" in height and over eight feet in length?
... that Tombstone's primary weapon could hit speeds of up to 400mph, though a change in rules enforced a 250mph tip speed limit on weapons from the 2018 season onwards?
... that popular YouTube content creator VSauce, real name Michael Stevens, featured on an episode of ABC BattleBots as a guest judge?
... that host Kenny Florian and pit reporter Jenny Taft are fluent in Spanish and French respectively?
... that Beta was originally supposed to compete in Comedy Central Season 5.0 of BattleBots, but had to withdraw?
... that SawBlaze has featured in the first fight of each of the last three seasons?
... that HyperShock was originally set to pair Bronco in its remote control HEXBUG Rivals set, but this idea was scrapped due to HyperShock being totally redesigned ahead of the 2018 season?
... that a second wave of Push Strikes were prototyped by HEXBUG, but never released?
... that Alex Hattori of Uppercut is a 7-time US National Yo-Yo champion, and featured in the music video for OneRepublic's "Wherever I Go"?
... that before becoming a feared competitor with undercutter Valkyrie, Leanne Cushing was part of 2016 season drop-out Preying Mantis?
... that prior to competing in the 2021 season of BattleBots, Todd Mendenhall of Triple Crown has previously won championships in both Robot Wars: Extreme Warriors as well as Robotica?