NOTICE:
Please refrain from posting spoilers relating to the current season of BattleBots. Spoilers can come in the form of unconfirmed Fight Night, Tournament Bracket or BattleBots: Bounty Hunters fights, information or hyperanalysis. The YouTube Exclusive battles which become available to Facebook Supporters early should also remain untouched until uploaded on the official BattleBots YouTube channel for public viewing. If information has been confirmed by an official news source, purposely confirmed through a previous episode or through authorized leaks. Additionally, please do not contribute rumors or speculation towards the upcoming season and present it as fact. BattleBots competitors, crew and audience members are under a strict non-disclosure agreement (NDA), and leaking spoilers ahead of official releases may put yourself or the Wiki at risk of legal action.
We thank you for your co-operation, and hope you enjoy the season.
Welcome to the BattleBots Wiki
This is the encyclopedia about the
BattleBots
TV show and its competitors, presenters, battles and teams, covering the Comedy Central, ABC and Discovery eras of the show, and is always growing. It also contains information on pages deemed relevant in terminology and sport of robotic combat.
This wiki covers BattleBots, and despite frequently making reference to other competitions, does not provide detailed insight into other televised shows and live events. These competitions have their respective wikis, which are linked below:
Robotica Wiki • Robogames Wiki
Robot Wars Wiki • Techno Games Wiki
King of Bots Wiki (also covers This is Fighting Robots)
Featured Article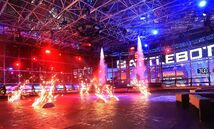 Discovery Season 6 is the sixth season of BattleBots since its return to television in 2015, and the fourth season since the Discovery network picked the show up from ABC.
Like every other reboot era seasons, it exclusively featured heavyweight robots. The season was filmed at Caesar's Entertainment Studios in Las Vegas, Nevada across a two-week period spanning late August to early September 2021. More...
Did You Know?
... that at its tallest, Mammoth measured 6'3" in height and over eight feet in length?
... that Tombstone's primary weapon could hit speeds of up to 400mph, though a change in rules enforced a 250mph tip speed limit on weapons from the 2018 season onwards?
... that popular YouTube content creator VSauce, real name Michael Stevens, featured on an episode of ABC BattleBots as a guest judge?
... that host Kenny Florian and pit reporter Jenny Taft are fluent in Spanish and French respectively?
... that Beta was originally supposed to compete in Comedy Central Season 5.0 of BattleBots, but had to withdraw?
... that SawBlaze has featured in the first fight of each of the last three seasons?
... that HyperShock was originally set to pair Bronco in its remote control HEXBUG Rivals set, but this idea was scrapped due to HyperShock being totally redesigned ahead of the 2019 season?

... that a second wave of Push Strikes were prototyped by HEXBUG, but never released?
... that Alex Hattori of Uppercut is a 7-time US National Yo-Yo champion, and featured in the music video for OneRepublic's "Wherever I Go"?
... that before becoming a feared competitor with heavyweight undercutter Valkyrie, Leanne Cushing was part of 2016 season drop-out Preying Mantis?
... that Todd Mendenhall of Triple Crown has previously won championships in both Robot Wars: Extreme Warriors as well as Robotica?
You can also find information about BattleBots spinoff series here.

To see all the BattleBots competitors who debuted in Season 6, click here.
Click here to discover anything relating to classic and modern era BattleBots merchandise. and specifically here for HEXBUG toys.
Contribute to this wiki
To write a new article, just enter the article title in the box below.
<createbox> width=24 break=no buttonlabel=Create new article </createbox>
Not sure where to start?
Check out Help:Starting this wiki for some tips.
If you are new to wikis, check Help:Getting_Started.
Check out the Community Portal to see what the community is working on, to give feedback or just to say hi.
See Forum:Wanted Pages for a list of pages needed for this Wiki.
Please refer to the Wiki Rules when making edits to keep pages consistent and professional looking where possible.
Uploading images is an easy way to help us out, especially concerning competitor pages whose fights do not currently have images.
Categories are a handy way of grouping together pages of a similar nature. You can find a list of useful templates on Category:Templates.
If you have any other questions, please ask any of the current admin team!