NOTICE: Please refrain from posting spoilers, information, and results about Battlebots Season 5 or the basement fights currently only available to supporters until confirmed by an official news source or an episode airing. Additionally, please do not contribute rumors or speculation. Participants and audience members are under strict non-disclosure agreements, and leaking spoilers ahead of press releases may put yourself or the wiki at risk of legal action. We thank you for your cooperation.
Welcome to the BattleBots Wiki
This is the encyclopedia about the BattleBots TV show and its competitors, presenters, battles and teams, and is always growing. It also contains information on pages deemed relevant in terminology and sport of robotic combat. This wiki only covers BattleBots and as such does not provide detailed information or images from Robot Wars, Robotica, RoboGames or other such competitions.
Featured article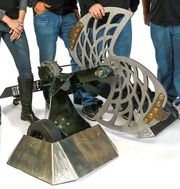 Nightmare was a heavyweight combat robot inspired by a bucket wheel excavator. Its weapon was a 4-foot rotary bludgeoning device with 5lb teeth on either side of the disc capable of delivering a 300 MPH uppercut. Nightmare competed in all 7 BattleBots competitions and did very well in all of them, winning the "Most Aggressive Robot" award at the Long Beach 1999 event. It was known for either delivering lots of damage to its opponents or going out in pieces, which is basically what happened to it every other year. Nightmare had had several revisions to it over the years, starting as a boxy plus-shaped robot and evolving into a much sleeker and more powerful design by Season 5.0. More...
Contribute to this wiki
To write a new article, just enter the article title in the box below.
<createbox> width=24 break=no buttonlabel=Create new article </createbox>
Not sure where to start?