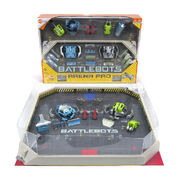 The BattleBots Arena Pro playset was part of HEXBUG's line of BattleBots toys released in 2018 to coincide with their build-your-own line of remote control toys.
The arena itself is identical to the 2016 release which included Witch Doctor and Tombstone toys, but this time included two build-your-own robot chassis which were also released individually in 2018. One of these chassis is blue, whereas the other is silver, and the playset features various armor and weapon attachments to customize your own HEXBUG robot.
This includes:
A gray and green axe attachment
A blue and silver flipper attachmernt
A blue and black spinning disc
A green and gray spinning drum
A silver wedge attachment
A green and gray rear thwacking tail
A black rear plow
Four wheels which are geared for extra torque
The playset is priced at $99.99.[1]
Trivia
[
]
A similar playset including build-your-own robots was released under the BattleBots Arena MAX name in 2021, but featured a heavily redesigned BattleBox based on its appearance from Discovery Season 5 onwards.
References
[
]