The BattleBots Arena MAX was released in 2021 as part of HEXBUG's line of BattleBots toys.
Much like the previous BattleBox release from HEXBUG in 2016, the arena floor is now made up of interlocking panels to create a playing surface advertised as "50% larger than ever before", measuring 30" x 30".[1] The arena is based on the Discovery Season 5 look of the iconic BattleBox, including the BattleBots logo from 2020 onwards. The spiked panels from the real BattleBox are now molded into the walls rather than being two-dimensional, and the pulverizers had been redesigned to resemble their updated shape, powered by buttons rather than levers behind the arena. However, other BattleBox hazards such as the killsaws remain purely decorative.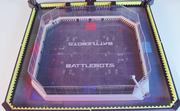 Unlike the previous HEXBUG BattleBox, this toy does not feature plastic sections resembling Lexan panels. One of the biggest features of the Arena MAX is the functional sets of screws which are housed at the top of the BattleBox. These feature plastic screws which spin upwards like the real arena hazard, activated by a small gray button between each set.
The standard Arena MAX set includes two remote control HEXBUG toys - a unique Tombstone resembling its 2020 season look with a blue bar and black armor panels, and the orange and black build-your-own robot based on the tank chassis. The BattleBots Arena MAX is priced at $119.99.
With the announcement of HyperShock and Rusty HEXBUG toys in 2022, it is currently unknown whether the Arena MAX set will be rereleased with these competitor toys.
In May 2022, the Arena MAX set was released in the United Kingdom, alongside Witch Doctor vs. Bronco and Bite Force vs. Blacksmith Rivals sets.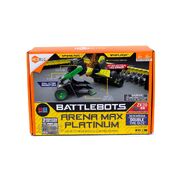 BattleBots Arena MAX Platinum
[
]
HEXBUG also released the BattleBots Arena MAX Platinum set, priced at $149.99.
This playset features the same upgraded BattleBox toy, but also includes the Whiplash and SawBlaze HEXBUG toys from the Platinum Rivals line, featuring rechargeable lithium polymer batteries and dual weaponry.[2]
See Also
[
]
References
[
]