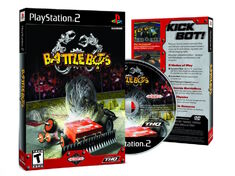 BattleBots was a video game produced by Warthog Games and to be published by THQ, planned to be released for the PlayStation 2 and GameCube in November 2002, with assistance from Creative Asylum.[1] However, production was cancelled after BattleBots was discontinued on Comedy Central.
Promo discs of the prototypes were sold on the BattleBots website for $150 but they sold out.[2] The Store lists the game under "vintage merchandise" for $299.98, however is permanently sold out as it was added in error.[3]
In May 2022, Alpha verison 4.6 of the video game was distributed by YouTuber Gatorbox, available to download free of charge for the first time.[4] It is the second most recent prototype available, with version 4.7 only in possession of co-founder Trey Roski.
Game Modes
[
]
Quick Battle
[
]
This mode allows a player to fight a single match inside the BattleBox arena between two robots which have been unlocked up to that point. This mode does not count towards any of the unlock achievements.
Arcade Mode
[
]
"Attempt to unlock all 80 bots when you battle in wide-open arenas with power-ups."
— Official description from THQ.
Tournament Mode
[
]
"Battle against bots from the show in a tournament structure with arenas and hazards seen on the TV show."
— Official description from THQ.
The tournament mode allows for a player to build their own robot from scratch, with a finite budget and limited components to begin with. Custom-built robots can be tested againt Testbot Mk.1 in an open arena before being submitted for competitions.
Multi-Player Mode
[
]
"Battle with up to 4 players in one arena or play in a 3 player or 4 player league."
— Official description from THQ.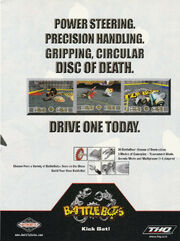 The BattleBots video game was also highlighted to have different camera angles, more accurate damage representation than previous games and play-by-play commentary with eighty playable robots and twenty different arenas to compete in, though not all of these were present on the most recently accessed version of the game prior to it being scrapped. The game appeared to be a notable improvement on previous releases, implementing visible damage and relatively realistic physics. The in-game models for each competitor robot were largely accurate, even down to bespoke decals and internal components being roughly detailed when damage was taken. It was possible to compete in four-way rumbles as well as one-on-one fights, with introductions from Mark Beiro audible in-game. However, at the stage the game was at when production ceased, it was possible for bots in rumbles to show as "OUT" when they are still mobile. It could also take an excessive amount of time for bots to be counted out. However, a player could view highlights of a battle after it had played out to relive the action, though commentary from Bil Dwyer and Tim Green was notably absent from fights.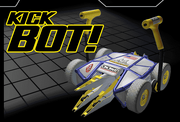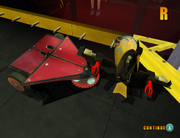 The game was initially announced on the official BattleBots website on September 12 2002, with November 2002 mentioned as its release date. For unknown reasons, it was initially postponed until early February 2003, before being delayed again to May 2003, then subsequently scrapped altogether.
According to a Reddit post from a user who was part of THQ's quality assurance team for the game, it saw little improvement in fixing bugs and issues in the months leading to the plug being pulled. With the development team based in Warthog Games' headquarters in the UK and the game's quality assurance team based in California, progress was slow and people on the team inevitably left THQ as the game was cancelled.
Nevertheless, a video was uploaded to YouTube showcasing gameplay footage. Additionally, many screenshots of the game and its concept art were made public in 2017 by Gary Switzer. In late 2021, a YouTuber called GatorBox acquired an alpha copy of the game and showed off gameplay and menu content.[5]
On Christmas Day 2021 the Twitch/YouTube channel Gatorbox uploaded a two and a half hour gameplay video of the prototype showing off numerous parts of the game and some of the bugs that cause it to crash. Draco, the host of the channel, stated that he is in possession of the prototype but is not at any liberty (or ability) to release it, but assured viewers that he had made multiple personal archives of it to prevent it from truly becoming "lost". Five months later however, he uploaded the prototype to the Internet Archive on May 6, 2022.[6]
Playable Robots
[
]
Forty replica robots and some fantasy robots were to be included in the game, each modelled in Autodesk 3DS Max by Creative Asylum, whose other notable work includes Pac-Man: Adventures in Time and Mobil 1 Rally Championship.[7] However, the THQ website states 80 robots were set to be included in the game.[8] Contrary to the TV show, where robots fought in their own weight classes, the game allowed robots from different weight classes to fight each other. The game's roster included many of the best and most well-recognised robots from BattleBots, but notably lacked several competitors from the seasons it was based around. Notably, Son of Whyachi, Tazbot, Atomic Wedgie, Dr. Inferno Jr. among others were absent from the game. However, more obscure robots such as Fang and Garm made the cut.[9]
Replica Robots
[
]
* These robots were not included in the most recent version of the game prior to it being scrapped.[10]
"I definitely remember modeling Tentoumushi and Killerhurtz, but I have a feeling they were on the "to do" list for the physics guy when the plug got pulled."
— Gary Switzer speaks about missing robots from the unfinished game in February 2022.
Other real-life robots were included but do not feature official photos like the above examples:
Some real-life robots were listed according to several articles and may have made up some of the original quoted eighty robots. However, these were not present in the most recent version of the game prior to it being scrapped:
Fictional Bots
[
]
As well as the stars from BattleBots, the game also featured twenty fictional robots, five per weight class:
Lightweight
[
]
Middleweight
[
]
Heavyweight
[
]
Super Heavyweight
[
]
Other
[
]
Arenas
[
]
"20 BattleBox Arenas of Destruction - Engineered for maximum safety on the outside and supreme torture on the inside, these 35-ton thunder domes are where the bots come to beat the bolts out of each other."
— Official THQ description.
As well as the renowned BattleBox, themed variations of the arena were also included in the game, held in different locations in the US. Though twenty arenas were advertized, only nine are available on the most recent version of the game before production was cancelled.[12]
Replica Arenas
[
]
Fictional Arenas
[
]
Gameplay Gallery
[
]
All screenshots are authentic and provided by various sources such as IGN, Gamer's Hell, and Worthplaying.com.
See Also
[
]
References
[
]