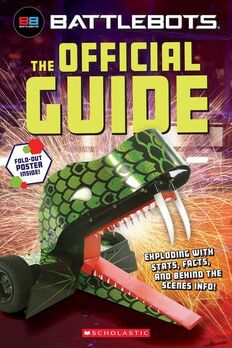 "The Ultimate Official Guide to BattleBots - the world's #1 robot competition show! Facts, photos, and more of all your favorite bots & teams! Bot Builders, get ready to battle! The BattleBots Official Guide has everything you need to know about the awesome, explosive, and destructive world of robo-battles! Learn about the coolest bots, the smartest builders, and the strongest teams in the history of BattleBots. From world records to behind-the-scenes exclusives, this guide is perfect for BattleBots fans everywhere."
— The official description for BattleBots: The Official Guide.
Battlebots: The Official Guide is a 128 page reference book due to be published on October 4, 2022 by Scholastic. It is the reboot era version of the identically-titled book released during Comedy Central BattleBots.
The book covers photos, facts, and stats on a selection of recognizable bots from both the ABC and Discovery seasons of BattleBots. The front cover features Matt Spurk's Kraken in its 2021 season appearance, though little else about the book is known.[1]
References
[
]