BattleBots: Le Choc des Robots was a French dub of ABC Season 1 which premiered in May 2019 on the French network Gulli.
It is one of the only known dubs to feature unique presenters to appeal to a non-English speaking audience. Chris Rose and Kenny Florian's presenting and commentary roles were fulfilled by Issa Doumbia and Nicolas Ciattoni, with Olivier Cordina, Marc Duquenoy, Laura Mazzoni and Serge Thiriet credited for the narration of builders and other personalities from the show such as Faruq Tauheed for his pre-fight introductions.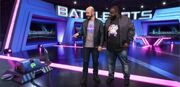 Visual segments featuring the French-speaking presenters were performed with the use of a green screen, with the pair sat at a desk protected onto a background graphic to give the illusion of them being present at the studio. Notably, a different robotic voice is used to say "Robots Activate!" in French, translated as "Robots, Activez!" with a silent T in the word "robots".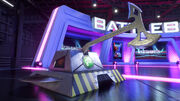 Unique for the Gulli airing of the show was a CGI combat robot to the right of both presenters, equipped with horizontal circular saws on either side and an overhead axe. It was purple in color with black and yellow warning stripes across the sides and front. The words "Le Choc des Robots" were detailed on the shaft of its axe and Gulli's logo was present on the front.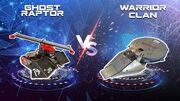 Episodes were 45 minutes in length, with two often airing back-to-back each week at 9pm and 9:45pm timeslots each Tuesday. Brief trailers were uploaded to Gulli's website ahead of each episode airing, and several battles were uploaded too with unique thumbnails.[1] However, no full episodes are available to watch outside of France.[2] In late 2020, BattleBots: Le Choc des Robots was repeated on French channel M6.[3]
For unknown reasons, future seasons of were not picked up by Gulli according to the US BattleBots website.[4] However, both ABC seasons were later made available to stream on French Netflix.
Trivia
[
]
BattleBots: Le Choc des Robots is the only known international dub of BattleBots to feature unique presenters.
References
[
]