BattleBots is an American television game show which originaly ran from 1999 to 2002, and was then picked up in 2015 where it has aired ever since.
The televised show first aired on US network Comedy Central, with its five seasons colloquially referred to as Seasons 1.0 to 5.0. Prior to that were two unaired competitions in 1999: the first was held in Long Beach, California, recorded for the BattleBots Beginnings VHS tape and DVD. The second was held in Las Vegas, Nevada and was made available on pay-per-view, but this was later available on DVD as well.
The show was revived in 2015 as a six-episode television series, and it was filmed in San Francisco. The season aired on ABC during the summer of that year and was referred as Season 1. Following its success, BattleBots was renewed for a second season which ran for ten episodes. On July 5 2017, the Science Channel picked up the rights to re-run ABC Battlebots episodes, though 2017 would not have its own season. The rights to produce future seasons shifted to Discovery in that time, starting with the 2018 season, which was still referred coloquially as Season 3. In 2019, BattleBots and Amazon collaborated to run a one-off event in Las Vegas, Nevada, which was livestreamed on Twitch to celebrate their annual re:MARS event. BattleBots has aired on Discovery ever since, with their spin-off series BattleBots: Bounty Hunters debuting on their subscription service, Discovery+, in 2021.
BattleBots has been distributed to over 150 countries in multiple continents since its 2015 return, even spawning dubs with unique presenters and recorded segments such as the French spin-off Le Choc des Robots. In December 2021, BattleBots began uploading fights from the first five seasons of the show to their YouTube channel for an international audience, some of which had not been made available since their initial airing in the US. BattleBots became available on Netflix that year also, and starting in April 2022, Discovery Season 3 of BattleBots aired in the United Kingdom on ITV4.
Origins
[
]
BattleBots stemmed from the original robot combat franchise Robot Wars. The brainchild of Lucasfilms toy designer Marc Thorpe, Robot Wars attracted builders from all over the United States, and as far away as France, to build fighting robots and battle them in a San Francisco warehouse. In 1997, legal disputes between Thorpe and his principle sponsor Profile Records reached critical mass, resulting in Profile licensing Robot Wars to the BBC in the United Kingdom without Thorpe on board. A large contingent of US Robot Wars regulars sympathized with Thorpe, and refused to have any more dealings with Robot Wars, leading to the 1998 and 1999 US Robot Wars events being canceled. However, the Robot Wars show became a hit in the United Kingdom, spawning seven total series, two Extreme spin-offs, US, Dutch and German series as well as multiple special episodes and competitions.
Trey Roski and Greg Munson, the builders of La Machine, decided to organize their own event to end the two-year drought and give their fellow builders an outlet for battling robots. They decided upon the name BattleBots for their competitions. The events proved hugely popular with the local crowd, each one pulling in a nearly-full house. The second event was made available on Pay-Per-View, and proved explosively popular there too. Subsequently, BattleBots was picked up by Comedy Central.
Jay Leno endorsed BattleBots several times on The Tonight Show, and commissioned a robot called Chinkilla, built in his name to fight in exhibition matches. The popularity of BattleBots contained to grow, drawing over 400 entrants in Season 5.0.
Robot Wars meanwhile, held two American competitions in the UK. They tried to entice BattleBots builders with an all-expense-paid trip to London, provided they changed their robot's name and paintjob if it appeared on BattleBots. Most of the prominent BattleBots builders were still unhappy with Robot Wars and declined the invitation. However, a healthy contingent of lesser-known teams showed up to take part.
During the 2001 Super Bowl, a Bud Light commercial aired featuring a fictional competition called Robotbash and a robot made by Bob and Chuck Pitzer, which was essentially Tripulta Raptor with special effects. BattleBots sued for copyright infringement but was struck down in court. Regardless, MTV bought out Comedy Central and after Season 5.0 ended, MTV did not want BattleBots as part of their lineup, so ended their contract. It was announced in November 2002 that a presumed "Season 6.0" would not go ahead that month, as initially intended.[1]
"We are very sorry to inform our builders that plans for the BattleBots 6.0 Tournament have been put on hold until further notice. At this point, the BattleBots 6.0 Tournament will NOT be held in November 2002 as originally planned. Much to our dismay, Comedy Central has decided NOT to renew its option for a Phase 6.0 taping at this time. Without this television funding from Comedy Central, BattleBots Inc. simply cannot afford to hold a live competition... We understand and appreciate the enormous resources, efforts, and talents that builders put into their robots. However, since the television funding is not there at this time, our hands are tied. Please understand that we have also expended a vast amount of effort in preparation for the Phase 6.0 event. We are as disappointed as you must be. This hurts us deeply in many ways."
— Part of the email sent by Greg Munson and Trey Roski in November 2002.
Untelevised BattleBots
[
]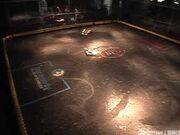 For the years that followed, low-profile BattleBots competitions still took place in variations of the same BattleBox arena. Notable events from this era included the 2004 NPC Charity Open, the 2005 Rochester Robot Rampage, and several student-oriented events running under the BattleBots IQ (BotsIQ) banner. These set the precedent for modern era competitors such as Marc DeVidts, Andrea Gellatly and Will Bales to establish themselves during the televised show's hiatus. An annual BotsIQ championship, arranged by Team Loki's Nola and Bill Garcia, took place alongside regional events running under the same name, this being staged between 2002 and 2012.
Co-founders Trey Roski and Greg Munson fought to agree a deal with a new network to air BattleBots on television once again, ranging from FOX Broadcasting Company to Canadian filmmaker James Cameron. Despite the 2009 Collegiate Championship being professionally edited[2] and shown as a pilot for CBS, BattleBots remained off the air until it was finally picked up by ABC in 2015.
The Reboot Era
[
]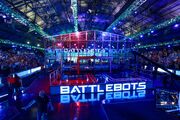 The first two seasons of the reboot era were produced in 2015 and 2016, with the iconic BattleBox and many new and former competitors returning. The show now only focused on heavyweight robots weighing up to 250lbs, a 30lb increase on the upper limit set by RoboGames and other US events at the time.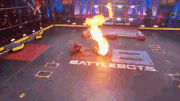 BattleBots has since become one of Discovery's most highly successful pick-ups, spawning two spin-offs named BattleBots: Bounty Hunters and BattleBots: Champions alongside the fifth and sixth reboot seasons. In February 2020, it was announced that Discovery had agreed a deal for 50 hours of programming, spanning what would become Discovery Season 6 and Discovery Season 7. Although the COVID-19 pandemic postponed the 2020 competition, this multi-year deal was not affected.
Event
[
]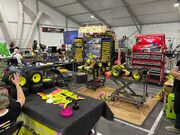 The BattleBox and the pit area are in separate areas of the chosen location. Teams are given tables for their robots and are separated with enough room for builders to work on their robots and walk between tables to other teams. In the Comedy Central days, banners featuring the previous event's winners from each weight class were hung overhead. In the modern era, the pits feature television screens where teams can watch various matches taking place to get an idea of who their next opponent might be. Otherwise, teams are forced to wait until the early morning hours of a future day to find out their first matchup. Teams often got a day off for every three days of filming, though this was not always possible due to scheduling. Two sessions a day were filmed with each session lasting four hours. Fights were 30 minutes apart, allowing for introductions from ring announcer Faruq Tauheed and other needs.
For the 2020 season, the events of COVID-19 and the restrictions that ensued meant there would be no live audience. Instead, competing teams ended up serving as a makeshift audience if they were not already fighting. They stood in front of the seats normally occupied by the crowd, with each team's respective banner hung over the railing during the time they were watching. A live audience returned, however, from the 2021 season onwards.
Personalities
[
]
The original emcee for both 1999 events was former American Gladiator Lee Reherman, who also did the countdown before each match. In the 1999 Las Vegas event, an animatronic robot called Y2K2 served this role, but in later seasons was replaced by a drag race Christmas Tree. At the Vegas event, Mark Beiro was the pre-match announcer, continuing on through the Comedy Central events. For the televised show, Bil Dwyer and Sean Salisbury were the original presenting duo, though the latter was replaced by Tim Green from Season 3.0 onwards. In addition, several arena side reporters interviewed competing roboteers before and after their matches. Carmen Electra served this role in the Comedy Central era of the show, though the reboot era saw this expand to a much more dignified role.
Alison Haislip filled this role in ABC Season 1, with FOX Sports' Molly McGrath serving as a third presenter alongside Chris Rose and Kenny Florian. Sportscaster Samantha Ponder took over from Molly McGrath in ABC Season 2 due to conflicting work with ESPN, but Chris and Kenny took over as permanent hosts for the show from Discovery Season 3 onwards, providing both the introductions to each fight as well as the commentary and post-fight interviews. Jenny Taft served as pit reporter for the 2018, 2019 and 2020 seasons, but did not return for Discovery Season 6. Former BattleBots competitor Pete Abrahamson took a presenting role starting from Discovery Season 5. Known as the "Bot Whisperer", he provided pre-fight analysis and thoughts on how a battle may play out.
Ring Announcer
[
]
Role
[
]
Introduce participating robots.
Entertain the crowd in between fights (preliminary matches only).
Announce the winner each fight, plus the score if it was by judges' decision (split or unanimous), or the match time if it was by knockout.
Commentators
[
]
Role
[
]
Introduce each match
Recap untelevised fights
Provide commentary
Format
[
]
BattleBots competitions were nearly identical to the US Robot Wars format, a straight knockout tournament in each weight class. Everyone who showed up with a rule-compliant robot was allowed to compete, with first-round byes given out as needed. The two untelevised seasons were double-elimination, whilst the rest were just single. In the Comedy Central seasons, matches were televised at the producers' discretion, and every show would typically feature at least one battle from each weight class. In Season 3.0 and beyond, seeded robots would gain automatic entry into the Top 32.
A robot was considered knocked out if immobile for thirty seconds and completely separated from its opponent. If there was no clear winner after three minutes, the judges would determine a winner based on aggression, strategy, and damage.
Also featured in each season was a rumble between the Top 32 finishers in each class. The lower 16 would fight in the first rumble, known as the Consolation Rumble, from which the judges would pick two winners. The winners joined the Top 16 in the Royal Rumble, which would end with the judges picking the three best performers and audience applause ultimately deciding the winner. These rumbles were not held during Season 5.0 due to a safety breach during a heavyweight rumble which caused one of Nightmare's teeth to fly through the BattleBox ceiling and into the crowd. Fortunately, no one was hurt in the incident.
For Season 5.0, comedic segments largely replaced the builder segments from the past seasons. Some examples were "Bots in the News" and "Crossing Over".
Judging
[
]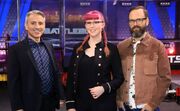 If both robots were still mobile after 3 minutes, a panel of three Judges would decide the winner based on a set of scoring criteria. The criteria was Aggression, Strategy, and Damage, with each originally having equal weight. The judges would score the robots from 0-3 in each category for a score of up to 9 points (later 0 to 15 for a score of up to 45 points).
For the reboot, a Control judging category was added and had the same weight as the other categories. However, instead of using a points total, each judge would cast a vote on the winner based on the criteria. For the third season of the reboot, the judging awards up to 2 points for damage and 1 point for the other categories. Much as with ABC Season 2, not using the primary weapon can count against a robot's aggression points. The major difference for the 2016 season concerned celebrity guest judges. However, this was short-lived as from the 2018 season onwards, guest judges were dropped, instead favoring a permanent lineup of former BattleBots competitors: Derek Young, Jason Bardis and Lisa Winter.
Broadcast Dates
[
]
Season
Network
Filming Location
Premiere
Classic Era
Long Beach 1999
Broadcast online on ZDTV
Long Beach, CA
August 14, 1998
Las Vegas 1999
ESPN Pay-Per-View
Las Vegas, NV
November 17, 1999
Season 1.0
Comedy Central
San Francisco, CA
June 9, 2000
Season 2.0
Las Vegas, NV
November 17, 2000
Season 3.0
Treasure Island, CA
May 22, 2001
Season 4.0
November 4, 2001
Season 5.0
May 19, 2002
Reboot Era
ABC Season 1
ABC
San Francisco, CA
June 25, 2015
ABC Season 2
Los Angeles, CA
June 23, 2016
Discovery Season 3
Discovery Channel
Long Beach, CA
May 11, 2018
Discovery Season 4
June 7, 2019
Discovery Season 5
December 3, 2020
Battlebots: Bounty Hunters
discovery+
January 4, 2021
Discovery Season 6
Discovery Channel
Las Vegas, NV
January 6, 2022
BattleBots: Champions
Discovery Channel, discovery+
August 4, 2022
Discovery Season 7
Discovery Channel
TBA
References
[
]