"Did you know that Tombstone's weapon bar spins at 250 miles per hour? And did you know that Kraken can crush with more force than the weight of 6 cars?! Learn more about your favorite robots with the official BattleBots alphabet book, written by Andrea Gellatly of Team Witch Doctor! Caleb Kempson's striking illustrations accompany three reading levels on each page, making "B Is for BattleBots" perfect for fans of all ages."
— The official book description.
B is for BattleBots is an officially-licensed alphabet book written by Andrea Gellatly of Team Witch Doctor and illustrated by Caleb Kempson. It is available both as a physical book and in e-book form.[1]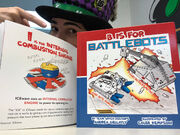 Published in November 2019, the book aims to teach young fans of the show about various terminology used within BattleBots and encourage them into STEM. Proceeds benefit the Witch Doctor Jr program, which the BattleBots team run to also inspire young people to build their own combat robot. The book is available to buy on Team Witch Doctor's website for $25.00[2] and on the BattleBots Store for $19.99.[3]
Each page of the book lists a different term, referencing specific BattleBots competitors in their Discovery Season 4 appearance.

In August 2020, Team Witch Doctor released a video showcasing various BattleBots teams reading the book, with a special message from ring announcer Faruq Tauheed.[4]
See Also
[
]
Trivia
[
]
Illustrator Caleb Kempson also designed the Technical T-Rex character, which was a feature of Team Witch Doctor's Tale of the Tape show, co-hosted alongside the HyperShock team.[5]
References
[
]