Axolotl was a heavyweight robot built by Uh-Oh Robotics which competed in Discovery Season 5 of the BattleBots reboot.
It was a two-wheel drive robot armed with a 45lb AR500 drum spinner which could spin at around 5000rpm and measured 11 inches in diameter. This vertical spinner was mounted between a pair of long, fixed wedges as well as two shorter pivoting wedgelets to get under its opponents. Axolotl's overall design and bright pink color is inspired by the amphibian of the same name. The team also added six pink decorative spikes on the top panel to imitate a real axolotl's fins, though these were removed before fights as they hindered the robot's ability to run inverted. Like the weapon, Axolotl's frame and armor was made from AR500 steel. Ishaan Gupta stated in a Reddit AMA post that the team took inspiration from Black Dragon, Witch Doctor and SawBlaze when designing and ultimately building Axolotl.[1]
Uh-Oh Robotics consisted of just two members over the age of 18 at the time of Discovery Season 5, making them by far and away the youngest team in the competition. Though the team had built robots before as part of VEX Robotics, the team had no experience of combat robotics prior to building and competing with Axolotl.
"If you were tracking when new BattleBots teams showed up, it probably seems like we came out of nowhere a month before filming started, and that's because we did. We were a group of kids with no combat robotics experience, and with 34 days to conceptualize, design, apply with, fund, brand, build and test our robot."
— Uh-Oh Robotics explain their ambitious journey to competing in Discovery Season 5 of BattleBots.
Built in the space of just a month, Axolotl did not fare well in its rookie season. In its fights, it was hindered by several issues which persisted throughout the season, such as the robot's drive chains jumping off their sprockets, which was the result of alignment issues with the robot's two-stage reduction drive, as well as its side-mounted weapon belts often slipping off and disabling the drum spinner.
An upgraded CAD image of Axolotl was posted ahead of Discovery Season 6. This version featured a bulkier front and chamfered rear, as well as two additional hinged wedgelets, and a larger vertical spinner. The top panel was also planned to be made from AR500 steel. Aesthetically, the proposed CAD was a brighter pink than its Season 5 look and had fins extending from the angled front, which was more accurate to the real animal. This version also intended to have anti-horizontal configuration according to team member Leo Riesenbach.
Axolotl was not accepted for Discovery Season 6, though Uh-Oh Robotics stated interest in reapplying for future seasons. Team captain Alon Belkin was present with Robotic Death Company during the season, who entered both Gigabyte and Cobalt for the competition. He is also an active part of Horizon, who too were unsuccessful in applying for Discovery Season 6.
Team member Cooper Wahl branched off from Uh-Oh Robotics to apply with Tempest, however they too were not accepted, but were encouraged to reapply for Discovery Season 7. Victoria Tomozei also joined newcomers Terrortops in 2022.
Axolotl resided with Alon Belkin until 2022, though various team members own different parts of the robot including the detachable fins. In March 2022, he confirmed Axolotl would not be reapplying for the 2022 season as he did not believe the current design would be accepted. Belkin has since rejoined Horizon as they applied for the seventh reboot season.
Robot History
[
]
Discovery Season 5
[
]
Axolotl vs. WAR? EZ!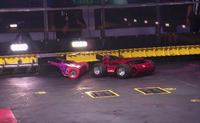 For its first match, Axolotl was put up against fellow newcomer, WAR? EZ!. This match was untelevised, but was later uploaded as a basement fight. Axolotl started the battle attacking WAR? EZ! from the side and then the front, however struggled to get its own weapon up to speed. By the time WAR? EZ! had managed to spin up, Axolotl stopped moving momentarily. Struggling with drive issues, Axolotl's weapon belt flew out of the robot and WAR? EZ! was able to overturn it. The next impact flipped it back into the center of the box and peeled part of the top panel away. Axolotl's left-side wheels fell off in an attempt to escape, which WAR? EZ! punted them into the wall of the box as Axolotl was counted out. WAR? EZ! won by knockout and Axolotl fell to a winless start.
Axolotl vs. Ribbot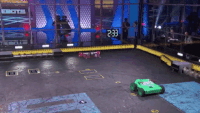 Next, they were placed against Ribbot. Axolotl started off well as they initially threw Ribbot into the air, but Ribbot stayed upright and its weapon continued to function. Axolotl attacked again, sending Ribbot near the pulverizer, but it managed to stay in the arena. Axolotl was no longer moving, but both teams had agreed to attack if the other was down so that the fight aired on TV. With Axolotl unable to move, they were attacked a final time before being counted out, giving Ribbot the win by KO.
BattleBots: Bounty Hunters
[
]
Axolotl vs. ROTATOR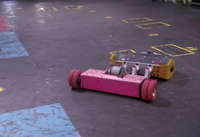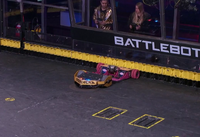 After the main tournament ended, Axolotl opted to participate in BattleBots: Bounty Hunters with the potential to fight Bronco and earn a portion of the $25,000 prize. To do it, Axolotl first took on Victor Soto and ROTATOR. In response, Axolotl was armed with a dustpan-like setup and was off to a good start, pushing ROTATOR into the screws. ROTATOR recovered and Axolotl quickly lost both its weapon belts before being pushed under the pulverizer, where it began to suffer some drive issues. Axolotl fought on, but it was no match and soon lost drive completely. Axolotl remained motionless as it was being counted out and tapped by its opponent, giving ROTATOR the win by knockout.
Results
[
]
AXOLOTL - RESULTS
Discovery Season 5
Fight Nights
0-2
Fight Night (Untelevised)
vs. WAR? EZ!
Lost (KO)
Fight Night
vs. Ribbot
Lost (KO)
Bounty Hunters
Bounty Hunters - Bronco Episode

Round 1
vs. ROTATOR
Lost (KO)
Wins/Losses
[
]
Competition
Wins
Losses
Discovery Season 5
None
WAR? EZ! (Untelevised Undercard Match)

Ribbot (Undercard Match)

BattleBots: Bounty Hunters
None
ROTATOR
Faruq Tauheed Introductions
[
]
"From Northridge, California, it's the adorable annihilator... AXOLOTL!"
"A cute little amphibian who's about to start killin' 'em... it's AXOLOTL!"
"From Northridge, California, the amphibian that's killing 'em, AXOLOTL!"
Trivia
[
]
Axolotl was initially going to be called "Akimbo" according to team captain Alon Belkin, but this was changed when Greg Munson suggested a rebrand during the design stage.
Uh-Oh Robotics raised over $8100 on GoFundMe just weeks before filming for Discovery Season 5 of BattleBots.
Axolotl was one of the cheapest BattleBots builds in the 2020 season, with their batteries being loaned from fellow VEX Robotics team and eventual season champions End Game.

Notably, Axolotl's foam-filled pink tires cost just $8 each.

Axolotl's logo and overall branding was done by graphic designer and team member Victoria Tomozei.

The axolotl in the team's logo is called Pinkie.
References
[
]