Ambush was a robot built by Team Blindside Robotics from the Rochester Institute of Technology for ABC Season 2 of BattleBots.
It was armed with a set of saws on a clamping arm and forks to cut into the opposition. According to an RIT news article, Ambush cost approximately $20,000.[1]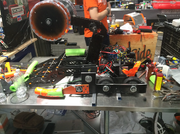 The team formed in October 2015, and Ambush was created soon after. Despite showing up for the event, however, Ambush was unfinished and had electrical problems. Ultimately, it was not finished in time to compete in the main bracket, or indeed any side rumbles, despite the team's best efforts.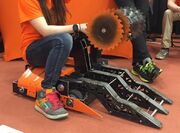 According to team captain Lydia Yeckley, Ambush was to be armed with a flamethrower weapon in addition to its saws and lifting forks, though it is unknown whether this came to fruition, as it is not mentioned on the BattleBots website. Ambush was mentioned on an episode of Inside The Bot podcast with Greg Munson, where he cited a lack of time as the main reason behind Ambush not being able to compete.[2]
In the same podcast, Lydia Yeckley put Ambush's issues down to trying to scale electronics up from robots they had experience building with FIRST Robotics, which weighed up to 120lbs. At filming, Ambush's speed controllers blew up when the team tried to power up their saws during testing.
Ambush would not return for any future seasons of BattleBots on ABC or Discovery.
Results
[
]
AMBUSH - RESULTS
ABC Season 2
2016 Championship
NOTE: Ambush withdrew from the competition and as such, did not compete.
Wins/Losses
[
]
| Competition | Wins | Losses |
| --- | --- | --- |
| ABC Season 2 | None | None |
Trivia
[
]
Despite not competing or being acknowledged by the show, Ambush merchandise is still available to buy on the BattleBots Store.[3]
References
[
]