Abrasion is a heavyweight robot built by the United Kingdom's Team Immersion, which applied for Discovery Seasons 5 and 6 of the BattleBots reboot.
The robot is heavily based on the 2019 build of the team's self-titled heavyweight Immersion, a design Abrasion became a more refined verison of. Abrasion is armored in HARDOX steel and despite being two-wheel drive, each wheel is powered by two brushless motors on each side. Its primary weapon is a front-hinged two-staged lifting arm, which not only lifts opponents, but lifts the front of Abrasion up in the meantime. This means Abrasion is able to comfortably overturn 250lb opponents while retaining the speed and drive power to outdrive them too.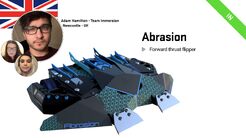 Team Immersion applied for Discovery Season 5 of BattleBots in late 2019, and received confirmation of their acceptance in December that year as part of the original roster for the 2020 season. However, filming was delayed due to the COVID-19 pandemic. With the international travel bans imposed as a result, Team Immersion were forced to withdraw from the competition, as were many other international BattleBots teams.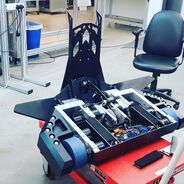 Team Immersion reapplied for Discovery Season 6 with a similarly-designed build of Abrasion, however it was ultimately not selected to compete. If accepted, the team would likely have had to have withdrawn a second time due to issues concerning UK teams' NIE VISAs being turned down by the state department. This was an issue which affected various international competitors ahead of the 2021 season. Even some which were still able to compete were compromised by this, as several European and American members of teams were unaffected but other team members were.
Despite this setback, Abrasion remains in a working state and the team intend to reapply for Discovery Season 7, which was confirmed by the network alongside Season 6 of BattleBots.
Outside of BattleBots, Team Immersion are an established combat robotics team in the UK live scene. Notably, Adam Hamilton, Emma Jones and Thomas Long entered Vulture into Series 10 of Robot Wars after not being selected for previous series. Team captain Adam Hamilton also competed in the unaired pilot for the show with Tanto, loaned by Team Danby. Vulture was dismantled and sold in 2018.
The team built Immersion for a presumed Series 11 of Robot Wars, but following its cancellation, instead fought with it in various UK live events. Billed at 154-176lbs, Immersion was relatively light compared to fellow heavyweights, but featured many of the design elements which would remain for future iterations - Abrasion included. A second version of Immersion was completed in June 2019 and won the 2020 RoboRiots event held in Dublin, Ireland. This version bore a greater resemblance to Abrasion and served as its prototype, according to team captain Adam Hamilton.[1]
An upgraded version of Vulture called Bonfire competed in Chinese show This is Fighting Robots, painted red and black for the competition. Team Immersion's Adam Hamilton and Thomas Long were joined by former Robot Wars competitors Gareth Anstee and Andy Russell, the latter of which attempted to compete in BattleBots with Jäger alongside Ed Hodges, but was unable to travel.
Team member Isaac Sharp is also an established roboteer in his own right, fighting in lower weight class events such as Robodojo with his sit-and-spin featherweight The Tragic Roundabout and featherweight lifter Euphoria. Similarly, Thomas Long competes with a featherweight drum spinner called Halcyon, and joined Adam Hamilton in entering Amnesia to the King of Bots UK International Championships in 2018, and the opening battle to promote King of Bots II.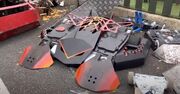 Team Immersion also built a second heavyweight called Ember, which appeared as a static display for Robonerd in September 2021, an annual event hosted in Wolverhampton, England. It is aesthetically similar to Abrasion, but features a stronger plow at the front and a black and red color scheme, hence its name. The robot is owned and captained by Ed Hodges, though it remains part of Team Immersion's fleet of robots.
For more on Team Immersion's work outside of BattleBots, see their dedicated page on the Robot Wars wiki.
See also
[
]
Trivia
[
]
Team Immersion's name, as well as several robots made by members not necessarily associated with Abrasion, is inspired by the third album from Australian drum and bass group Pendulum of the same name.

Though 'Abrasion' deviates from this theme, it was still entered under Team Immersion.

Away from their own creations, Team Immersion produce commissions of featherweight robots. One of these is Little Dill, a 30lb version of Emmanuel Carrillo's Big Dill, and later the Discovery Season 6 heavyweight Big Dill itself.
If accepted, Abrasion would have been the lightest 2020 season competitor in the field at 205lbs (93kg) in its main configuration, roughly a pound lighter than Perfect Phoenix.
References
[
]