ATOM#94 was a heavyweight robot built by AutoVoltz Robotics which competed in Discovery Season 5 of the BattleBots .
ATOM#94 is a two-wheel drive, black and blue robot armed with a vertical spinning disc. Its name comes from the atomic number for Plutonium, which is 94. Despite living in Canada, AutoVoltz Robotics were the first team in BattleBots history to represent India. The team is led by Yash Deshmukh, who contacted Ray Billings of Tombstone for the idea of ATOM#94 ahead of the season for advice on its design. The show played this up as Hardcore Robotics mentoring the team, however, this was exaggerated.
In its rookie season, ATOM#94 went winless in Fight Night due to reliability issues which persisted throughout its fights. ATOM#94 returned for BattleBots: Bounty Hunters, but was no more successful, losing to MadCatter. According to the team, half of the robot was built in India, whereas the other half was built in Canada. Due to residing in Canada at the time of filming, AutoVoltz Robotics were able to compete without being affected by the COVID-19 travel restrictions which prevented many other international teams from attending the 2020 season.
For unknown reasons, ATOM#94 did not return for Discovery Season 6.
Robot History
[
]
Discovery Season 5
[
]
ATOM#94 vs. Big Dill
ATOM#94's first BattleBots opponent was Big Dill. For this fight, ATOM#94 ran with a slightly smaller set of discs. When the match began, ATOM#94 was unable to get its weapon up to any threatening speed and was also experiencing drive issues, leaving it vulnerable to Big Dill's forks. ATOM#94 was lifted up and flipped upside down before smoke began to pour from the bot. ATOM#94 then took a big hit that ended up leaving both robots stuck together. The match was paused to try and separate them, but the crew was unsuccessful. As a result, the fight went to the judges, who gave a unanimous 3-0 decision to Big Dill.
ATOM#94 vs. Tantrum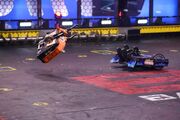 ATOM#94 was eventually freed and next fought Aren Hill and Tantrum. ATOM#94 was off to a strong start as their first impact threw Tantrum completely over and against the screws. Before it could take another shot, Tantrum righted itself and ATOM#94 found itself on the receiving end of multiple attacks. Its weapon began to slow down and ATOM#94 was eventually flipped over. Now immobile, ATOM#94 was counted out, giving Tantrum the win by KO.
ATOM#94 vs. Perfect Phoenix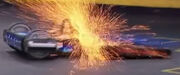 ATOM#94's third and final Fight Night battle came against Perfect Phoenix, another bot which Ray Billings assisted with. As the match got going, ATOM#94 was doing well as the first impact sent Perfect Phoenix into the air. A second collision then launched Perfect Phoenix halfway across the BattleBox, almost getting them flipped over. However, one of ATOM#94's discs ended up bending inwards on impact while its opponent's weapon was still working. Luckily for ATOM#94, Perfect Phoenix's weapon motor started smoking shortly after, disabling its weapon. This resulted in a pushing match that didn't favor ATOM#94, but they were able to force a brief stalemate. ATOM#94 was unable to push against their opponent and got taken to the rails in the final seconds of the match. Despite the smoke at the end, the judges awarded a 3-0 decision to Perfect Phoenix. Since ATOM#94 went 0-3, this prevented it from making the Top 32.
BattleBots: Bounty Hunters
[
]
ATOM#94 vs. MadCatter
ATOM#94 also had a battle against MadCatter in BattleBots: Bounty Hunters to determine who would have the right to face Bronco for a share of the $25,000 cash prize. ATOM#94 had a decent start as they avoided a box rush, but quickly started to take damage and got flipped over near the corner and lost a portion of a wheelguard. ATOM#94 was barely able to move after this and took more hits, losing various panels and pieces before it finally stopped moving. ATOM#94 was counted out, giving MadCatter the win by KO and a spot in the next round.
Results
[
]
ATOM#94 - RESULTS
Discovery Season 5
Fight Nights
0-3
Fight Night
vs. Big Dill
Lost (JD)
Fight Night
vs. Tantrum
Lost (KO)
Fight Night
vs. Perfect Phoenix
Lost (JD)
Bounty Hunters 2020
Bounty Hunters 2020 - Bronco Episode

Round 1
vs. MadCatter
Lost (KO)
Wins/Losses
[
]
Faruq Tauheed Introductions
[
]
"From India, by way of Canada, it's da bomb! ATOM#94!"
From Calgary, Alberta, Canada, ready to drop an atomic bomb, it's ATOM#94!"